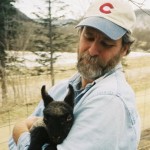 for digital acoustics
Commissioned by the McKnight Foundation
I have grouped these poems in three section in my setting. I recorded the poet reading these poems and then created a digital setting using exclusively the sounds that I derived from sampling and processing the poet's voice.
Chad Mikal Oness is the founding editor and director of Sutton Hoo Press, a literary fine press producing hand-made limited editions of poetry and prose.  A graduate of the Iowa Writers' Workshop and the University of Missouri, Oness has received the Toi Shan Fellowship from the Taoist Center in Washington, D.C.  His poems have appeared in The Iowa Review, Shenandoah, The Colorado Review, Third Coast, The Bloomsbury Review, Fence, Puerto del Sol, and other magazines.  His work has been awarded the Mahan Poetry Prize, an Academy of American Poets Prize, the Mary Roberts Rinehart Award, and a Wisconsin Arts Board Grant.  His book of poems Water Becomes Bone was published by New Issues Press in 2000 and was awarded the Posner Prize in Poetry by the Council of Wisconsin Writers.  His most recent book, Oracle Bones, was selected for the Lewis & Clark Expedition Prize, and was published  in fall 2007.
Audio from the premiere
premiere performance at the Minnesota Marine Art Museum, Oct. 2009
I & II
Audio clip: Adobe Flash Player (version 9 or above) is required to play this audio clip. Download the latest version here. You also need to have JavaScript enabled in your browser.
III
Audio clip: Adobe Flash Player (version 9 or above) is required to play this audio clip. Download the latest version here. You also need to have JavaScript enabled in your browser.
IV
Audio clip: Adobe Flash Player (version 9 or above) is required to play this audio clip. Download the latest version here. You also need to have JavaScript enabled in your browser.
Texts
all texts by C. Mikal Oness.